Niveus Media Extender Edge
Jump to navigation
Jump to search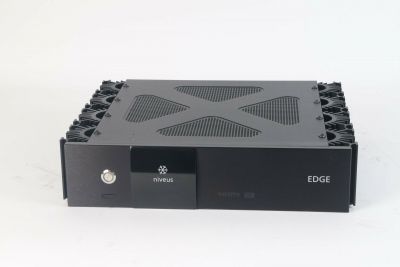 Niveus Media Extender Edge
Launch Date: February 2008
Manufacturer: Niveus Media, Inc.
Price: $1500

About this Device
"We're excited to formally introduce the Niveus Media Extender – EDGE,"states Tim Cutting, CEO, Niveus Media. "EDGE represents the final building block of the Niveus Entertainment Experience, a complete end-to-end server/client product architecture that allows high definition entertainment to be accessed from any room of the house. No other vendor can offer this complete solution based on the Microsoft Media Center platform. This, along with our recent ISF certification of EDGE, is a huge advantage over competing solutions."
Release Date: Early 2008?
Price: $1500 US DOLLAR (Only Authorized Sellers, no retail)
Site: WEBSITE , Technical Specifications
Very little is known other then the company took a xbox 360 and put it in there box with passive cooling
No DVD Drive, green wire soldered to the header
No Power Supply, it is internal
Retail Motherboard
Gunz4Hires' is Zephyr on Dashboard 5759
Xbox Surgeons' is Zephyr on Dashboard 5766
Kabojnks' is a Falcon
HDD Port works
Downloads
Niveus Studio: Requires a Windows Vista Ultimate PC, possibly with some other modifications by Niveus
Nivues Movie Library: Companion App for Niveus Devices
Images
Videos
Device Specs
NO DVD Drive
NO HDD
NO Memory Unit
Working RF Board
USB Ports each have USB extenders to the back of the box
HDMI Cable to back of box
Hacked up AV Cable to back of the box
Hacked Power Cable that runs to Internal Power Supply put in Aluminum Case
3X SiLenX Fans
Huge Passive Cooling Copper Pipes that run to outter Heat Sinks
Ethenet Cable running to there back port
Using the Kiosk Pads Next to DVD Eject to control front panel
Wire soldered onto DVD Drive header to stop it from saying Ejecting in the Dashboard
2 Wired soldered onto the Power Button on RF Board
Technical Specifications According to their PDF
Television and Video
Video Resolution Support 480p/720p/1080i/1080p
Tuner Support Up to four tuners via Windows Vista or XP-based Niveus Media Center.

Personal Video Recorder
Personal Video Recorder functionality with high-performance hardware encoding via Niveus Media Center. Features pause, instant replay and 30-second skip with capability to record up to four TV channels simultaneously while playing back another pre-recorded show. (Requires Niveus Media Center and Niveus Digital Cable Receiver or supported 3rd Party PC, sold separately)
Compatibility
Compatible with cable (incl. CableCARD), satellite, standard and high definition over-the-air. Television compatibility is solely dependent upon the support of the paired Niveus Media Center. (not included)
Electronic Program Guide
14-day program guide¹. Downloadable at no charge via broadband Internet connection.
Storage
Hard Drive N/A. Access stored media on any network attached Niveus Media Center including external storage devices.

Audio
Audio 2-Channel Analog & 5.1 Digital surround sound.
Certification Dolby Digital

External I/O Connectors
Video Output (1) HDMI (video and audio), (1) Component [YPbPr]
Audio Output (2) RCA (gold-plated) for 2.0 stereo analog output, (1) Toslink optical digital port for 5.1 digital output
USB (2.0) (3) Rear Panel

Control
Infrared Receiver Front built-in IR Receiver for IR Control
RS-232 RS-232 Control is achieved via physical connection on primary Media Center & via Niveus Control Server Software

Internet Connectivity
Ethernet 10/100 Base-T Ethernet (RJ-45)

Chassis
Material Proprietary Niveus Black Anodized Heatsink Case made from aircraft-grade aluminum
Cooling Niveus Glacier™ Passive Cooling Technology for silent operation
Rear Niveus ConvergencePanel™ (patent-pending) providing simple, A/V-style connectors and ports on rear panel

Power
Power Supply 205 Watt Internal Power Supply
Requirements 110V AC, 50 / 60Hz

Accessories
Remote Control Microsoft IR Remote Control for Windows Media Center Edition. 20 ft. Range.
Cables (1) Power 

Dimensions & Weight
Dimensions 17.25" (W) x 15" (D) x 4.375" (H w/feet)
Weight 30 lbs

Software
Platform Extender for Windows® Media Center
Niveus Exclusive Media Center Companion: Allows network remote control of the Niveus Media Center & Niveus Media Extender

Service & Support
Limited Warranty One year parts and labor
Product Support Toll-free phone support including remote desktop connection to Niveus Technical Support team

Installation
Rack-Mount Custom Rackshelf Available from Middle Atlantic (Part Number RSH4A3R)